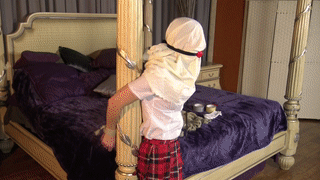 24:02 video
Starring real life biological mother and daughter, Genevieve and Jeanette!!

When Genevieve divorced me, she took me to the cleaner's and I swore revenge. Now, dragged into a strange house, a huge ball gag filling her mouth, she's confronted with a bound, gagged and hooded captive struggling for freedom. When the hood is removed, Genevieve is shocked to see it is her own daughter!! My revenge is simple: I'm going to take it out on Jeanette, and Genevieve will be forced to watch! She watches helplessly as I pack her daughter's mouth with socks and then tape them tightly in place, taping her head to the post for good measure. Now with both girls silenced, I can really go to work. Genevieve sobs into her gag as more and more ropes encircle her daughter's helpless young body, all cinched tightly until the poor girl can hardly move a muscle! tears flow down Genevieve's face, drool pouring from her gag as she watches me cinch a tight crotch rope into her daughter's pussy and open her shirt to reveal her pretty bra. Soon, Jeanette is utterly immobilized, able to do little more than twitchin fear and distress and she pleads for help through her packed mouth. With the two women secured, I leave them alone for a few minutes so Genevieve can really see how much agony her daughter is in. Soon, however, it's Genevieve's turn, and she finds herself trussed up to the opposite post, even more tightly than her daughter, her mouth packed full and sealed shut with clear tape. Her mouth frozen in a silent scream, head taped to the pole, she screams for help but the gag swallows her cries. Now it's time to let them know what's in store for the pair. Genevieve will be left here, bound, gagged and helpless without food or water until she perishes from dehydration. Jeanette, however, has been sold to a white slavery ring and will be taken overseas to become a sex slave! In fact, the slavers will be arriving within the hour to take the frantic young girl, and they have explicit instructions to test the merchandise before taking her away to her new life. Genevieve will be forced to watch as her daughter is defiled and carted away forever!! Confident the girls cannot escape their fate, I leave them to struggle fruitlessly. Neither can do more than flex their muscles and scream and cry into their gags. Desperate to free themselves, they fight as best they can, but they are stuck fast and can only wait impotently for the slavers to arrive. Genevieve screams and cries into her gag, knowing that as she wastes away, her last memory will be the defilement of her sweet daughter, and it's all Genevieve's fault! Her end is near, but for Jeanette, it's only the beginning of a life of torment!

Jeanette is the real life daughter of Genevieve, and this was their first scene shot together!