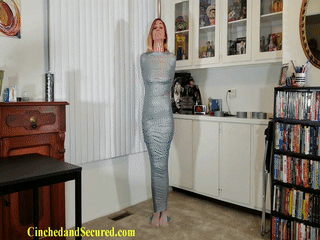 33:51 video
A CINCHED AND SECURED MEMBER EXCLUSIVE, ONLY AVAILABLE HERE!
I wanted to mummify Ayla from the very first time I met her, but she was rather anxious about the whole thing. Seems she had been mummified once before for personal play, and it did not go well. Finally, after speaking to several of our past victims...uh...models, she trusted me enough to try it. However, she was still very nervous, so we decided to do something a little different: Instead of a storyline video, I thought it better to simply slowly and carefully walk her through the entire process on camera, explaining to her (and you) exactly how we mummfy lovely ladies here at Cinched and Secured. She's given plenty of time to expereince every stage of the process, and we talk her through her nerves, constantly checking in to see how she is doing and if she wants to continue. She does, offering a nice commentary on exactly what it feels like, how constrictive it is, etc, until she's wrapped from shoulders all the way to her feet! Finally, she's gagged and left to struggle, knowing I am just a few feet away to release her the moment she wants out!

A fun, low-key look at a model's first mummification!